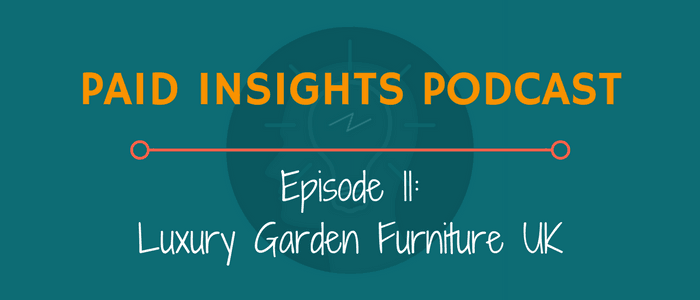 For episode 11, I searched for luxury garden furniture uk.
Search & Top AdWords Ads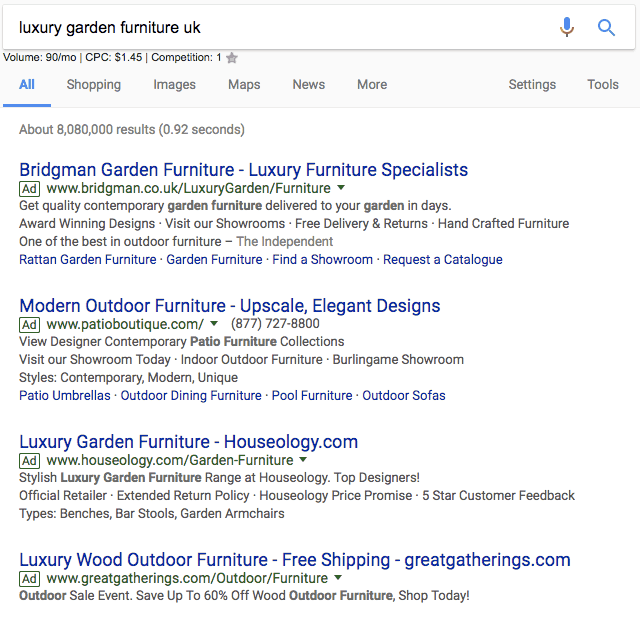 Luxury Garden Furniture UK Landing Pages
GreatGatherings Outdoor Furniture
Transcript
Automated By Google
[0:00] And welcome to episode 11 of the paid insights podcast for we analyze and deconstruct other companies ad campaign so you can learn what to do and what not to do for your business.
[0:12] Music.
[0:21] Thanks for joining me today on the podcast today we're going to look at.
A keyword for luxury garden furniture UK.
And I actually got this suggestion from someone I sent an email asking what people wanted to hear and this was one of the other requests I got so that's great.
Tip for everyone if you want to hear AQ or just get in touch you can go to paid insights.com and use the contact form or sign up for the email list in.
I just replied to any of the emails from me and I will get them in my inbox.
So let's look at these top for ads and I haven't looked at it all myself so we're doing this together.
First is Bridgman garden furniture to luxury Furniture specialist and.
To their display URL says luxury garden furniture so that aligns to get quality.
Contemporary garden furniture delivered to your garden in days so that's.
Pretty cool that give you they send it to use his free delivery and returns handcrafted Furniture visit our showrooms award-winning designs.
[1:44] For the call out extensions and then they also have a review from the Independent and it says one of the best and outdoor furniture so that's awesome to see a nice social proof there.
And then they have some tight links as well so it's good to see they're using all these different extensions it says to the type of garden furniture some links to garden furniture find the showroom and request a catalog cell.
I think that's a great kind of combination of keeping him specific and then also heading in the request a catalog in find Astro rumor.
Things that you might want to do you know if they want to visit you in person
so.
[2:29] Another thing that stands out is the free delivery and returns that really lowers your resistance I mean if you.
Or something and it just shows up broken or there's issues they will pay for an End patio furniture garden furniture is expensive to ship so.
It's good to see the day they offer that service handcrafted kind of alludes to that luxury aspect as well there.
Let's go on to the next one in patio boutique.com in this is says modern outdoor furniture upscale elegant designs.
Include an 800 phone number
which
am I search for UK.
Garden furniture so I'm not sure if that is has a good fit.
It just might be something you want to add to negative keywords or locations for places that they don't service but we'll see if they they actually do that when I get to the landing pages.
[3:36] His view designer contemporary patio furniture collections and it says visit our showroom today indoor/outdoor furniture and.
[3:47] Burlingame showroom which must be a location.
Is a Styles contemporary modern unique and a half site link extensions as a patio umbrellas outdoor dining Furniture pool furniture and outdoor sofa still text you good to see that that alliance with the outdoor furniture thing.
As well.
Overall pretty good it looks like their display URLs their homepage so I'm assuming they're sending you to their homepage but I'm guessing their entire site is about as outdoor furniture so maybe that.
Let's look at the next one is how Saleh g.com and in the display URL says slash garden furniture.
And their headlines has luxury garden furniture the descriptions of stylish luxury garden furniture range at house ology top designers.
Does official retailer extended return policy house ology price promise and five-star customer feedback there is a types listed for a structured snippet as a benches bar stools Garden armchairs.
So pretty
similar similar to the above
it looks like they
Kelly the official retailer.
Time is The Annex and return policy or Nice Nice additions there as well as the five star customer feedback shows that people are happy with their other services.
[5:17] That's always a nice thing to call out.
And then lastly is Great Gatherings. Come the display of a real has outdoor furniture as well.
NFL luxury wood outdoor furniture free shipping right in the headline so it's like their highlighting a.
10 of a sale or discount in their description it says outdoor sale event save up to 60% off wood outdoor furniture shop today.
Tooth interesting is that this is the only ad that mentions a discount or sale in any of these ads.
And because we search for luxury garden furniture typically you I think a lot of companies don't want to advertise that because they don't want to be seen as a discount.
Retailer company so that makes it kind of kind of gives an opposite of prescient impression so they say they're luxury Furniture but then they have 60% off.
Tell maybe you're rich people who are wanting to get nice stuff but really really can't afford it so
time.
I could probably I probably would stay away from the discounting.
Piece of that the other three companies seem like they do a good job just by letting you know upscale luxury handmade kind of that.
Aspect of their products if they're selling.
[6:50] And just a quick reminder before we get to the landing pages that you can find the show notes for this episode at paid insights.com / 11 the number 11.
And you have a screenshot of the search and then links to all the landing pages so you can take a look at them yourself as well and then I also.
Came across this automated.
Transcription tool through Google which doesn't work terribly well it's actually kind of funny they messed up some words and pull your feet but we're going to give it a try and,
you can take a look at that as well the landing pages first we have Bridgeman.
Inspired living they are a luxury garden furniture company and you start out at end of a nice.
Large image of a outdoor sofa set with the table and they're actually really like to see here.
Is not only the scenery is a nice outdoor.
Kind of image but they have a family in you know using the furniture and it looks like someone's like an action shot kids getting his to shoot I'd and.
Have some tea or something sitting out so.
It's almost always best for four products to show them and use so show people if you're having Jewelry Company show someone wearing it or if you have a clothing company someone.
[8:28] Wearing it on this case show someone using using your furniture almost always gets a better.
Better response and better engagement till just a tip tip there and.
So we we search for garden furniture and we landed at the garden furniture page that's a great alignment and this is basically a top-level category page.
So I would expect if I had search for say Garden tables I would have landed on the garden tables category page.
Or fight search for sofas land on that page but since I search more broadly we're at the broader garden furniture page which makes sense.
Anderson.
Nice description hear of a little bit of their history since the eighties they been designing and Manufacturing Furniture throughout Europe.
Salt works also. Co. Uk.
A URL so we're staying with the UK
search and theme that I did initially and also.
It is a secure site which I would hope that all eCommerce companies would use and actually everyone should be switching to secure sites.
As quickly as possible this point and I actually need to do that myself for paid insights but I will get there.
So moving on down the paid basically that that top featured image is.
[10:02] A featured collection to the whole description and link to that specific asset and.
As you scroll down it's a bunch of different subcategory pages so dining set sofa sets garden chairs Garden tables coffee tables so you kind of you start out brought that was the search and then.
Define allows you to drill down into specifically what you're looking for which is perfect they each each little thing.
Free 3×3 I think tile layout and.
Each section has an image kind of show you what that sections about and it makes sense but then there's a little overlay and it says like for example Garden tables says Garden tables.
And it says dining tables to seat up to 16 people tonight short description not nothing overwhelming and I'm below that it says shop now.
Trail of the band called action their kind of makes you want to click and start looking around it what what's in that section do each of those has a similar kind.
Title short description and the shop now button so I like that and then continuing.
It says as seen in and then there's some of the independent which aligns with the review Homes and Garden the English home Ideal Home Daily Telegraph so.
Paid social proof shows that they have been in some kind of
big name.
[11:34] Publications and then we'll that says visit a Bridgeman showroom and there's four different ones for four different cities.
As it's actually nice to see that if you want to go visit in person you can go see the furniture and give them a little more credibility you know if you can go talk to someone you know that they.
Have physical shops so I'm I know that not everyone has that but if you can if you can highlight that definitely do.
And the nail say speak to an expert to give you a phone number they have a catalog you can get a free copy and then it says free delivery.
In the UK just perfect other than foot hurts his 40 years equality so nice nice.
There's a lot of ways to get in touch get what you want
free deliveries great great to see.
Secure sides I'm not going to dive in any deeper but nothing as you do a great job here and we'll go on to the next next site which is patio boutique.com.
And secure sites that's good to see.
But this this site looks looks like it's from from the nineties to say the least. Very narrow kind of design I mean I have a 1080p screen and.
It maybe takes up half and
there their navigation is like a.
[13:06] Garden on gray gray little buttons but there's no there's no spacing and.
[13:14] Another thing that kind of is as weird as filled the website as patio boutique.com but then there.
[13:22] There a logo says Allegro Classics so that doesn't even a line in and I don't see patio Boutique anywhere.
On the side so now I don't know it feels feels a little shady and the design doesn't help with the.
Trust Factor at all they do include a phone number 800 phone number they have a Better Business Bureau.
Symbol says free shipping on orders over 2000 to the US so it doesn't doesn't line with that.
UK search that I did and mentioned earlier so it might be a good good chance for them to exclude countries that they at least at least bigger popular countries that they don't ship to.
[14:13] As we I mean the stuff looks nice they have nice nice imagery.
Just see the borders in the fonts it's kind of not another the headline is all all lower case for these little subsections so it just.
Just doesn't feel.
[14:35] Like a like a trustworthy site they're just weird like angled image that I wouldn't I wouldn't buy from here if I was looking for a place.
Maybe that maybe they're fine but not a lot of.
[14:53] Nothing that makes me want to do business to business with these guys so long.
Next is house ala g.com and this is a nice actually a nice design site eCommerce site so we land on the outdoor Garden.
[15:10] Furniture page and the first thing you see is luxury garden furniture from 40 pounds to.
10999 pounds so good to see where in the United UK search for on the UK language selection.
Automatically Galaxy change the currency currency selection you can change it to us or Fillion or Euro as well.
[15:45] And slept makes me feel like they they probably ship.
To a lot of places but is excited returns which aligns with that add as well.
[15:57] And imagery is good there's a like a trusted Merchant thing sitting there and I'm swelling on the right page or on the outdoor garden furniture area and then on the left there's category.
Section so where there's tables dining chairs dining sets benches hammocks at cetera.
Taking kind of diving a little deeper there or in a typical e-commerce you can sort by.
[16:27] Products or brands or color so I like that like that aspect you can you choose.
The color or the material if you want a glass or concrete or something like that one thing they do it's a biscuit since we're at the high-level it's a bunch of stuff so you.
He gets sofas you get chairs you get tables little bit everything can all mixed in and you have to sort sort down a little bit.
I like the approach that Bridgeman took where it was just.
You know they they let you they show you high level and let you kind of dive into the sections.
I like that flow little better but overall this is this is good and then as you scroll down there's a related content so it says buying guide.
Smother how to stuff looks like it leads to to their blog if I was guessing and it says can't find what you're looking for.
Ask us now and looks like you can you can get in touch and I'll find it and deliver it for you so that's that is awesome and.
[17:39] Is a little life Chat thing in the bottom so if you want to talk to someone right away you can and looks like this company sells a lot of different stuff so cooking dining bed.
[17:53] Lightning ton of stuff so please we got we got the right section here and it looks relatively easy to use looks trusting nice clean design.
And finally we have Great Gatherings.com we land on the outdoor furniture page here which is which is good to see.
And actually one thing for this one so when I was getting to the website and I don't actually click the ads I.
Basically copy and paste or figure it out and what I did was
when I copied and pasted.
I put the and outdoor and the s in Furniture were capitalized.
[18:40] Otherwise the URL was the same and when I went to that it actually.
[18:46] Basically failed and redirected me to the homepage so something they might want to look into fixing is we have a redirect no matter how.
[18:57] What the case is for for the URL it should I just all redirect to lowercase that's the.
Best approach in that way if someone lets leave someone links to you.
And they use a capital you don't get credit for that link so just the just the tip there they might want to have their sco or technical team take a look at that.
Says that we're at the we're at the outdoor furniture page so good to see that's aligned.
[19:31] Too little but not a bad design site it feels feels a little dated just because it's real narrow kind of like that.
Patio Boutique website
and this is the one that talked about sales.
And that's actually one of the first things you see a sales event but then.
And they have fire pits outdoor seating outdoor dining sets so if I click on sales of then it goes to Promotions page and there's some future products so this lets me.
[20:09] It's kind of similar to Bridgman where it doesn't give me too much at 1 to let me dive in deeper based on kind of sub-categories to outdoor furniture.
I clicked on the promotions just because that was what they were really highlighting in their ad.
And I get to a page that just had a ton of stuff at there's a.
9 different pool tables so it doesn't really feel like outdoor furniture so that kind of leaves me please me away I mean as I go down and you get to outdoor outdoor promotions that they have butt.
[20:46] You know I might be better if they had specific promotion Pages for different sections of their site or kind of segment them in some way there's no way to sort on the motion paid cell.
One thing they can upgrade and another is that the images are actually really really small to come in a can.
Set alarm here I guess but if they need to paid a little wider and space it out a little better I think I just think it have a better better visual appeal.
And.
You know it's hard to see what the what the product is an even when you I just clicked on a product page the image is still small and I want it to be I just want to be a lot bigger you click on it it doesn't.
Really helped out so that's a.
It's something that could use some work but it actually looks like they sell really nice stuff
no it's not cheap so.
Life support they have an 800 number.
Doesn't really fit that UK search that I did so another one where they might want to exclude those top International countries if they don't service those areas.
[22:07] Music.
[22:22] Thing if you are enjoying these podcast episodes I would greatly appreciate it if you would leave a rating and review on iTunes.
And I create a link to easily get over to the iTunes page it's paid insights.com / iTunes.
Symbols that pop over there click.
Five stars one star whatever you want leave a review and will see you soon.