In episode 8 we take a look at the ads and landing pages for the search query boxing franchise. It gets 110 searches per month with an average cost per click of $2.20.
Here's the search: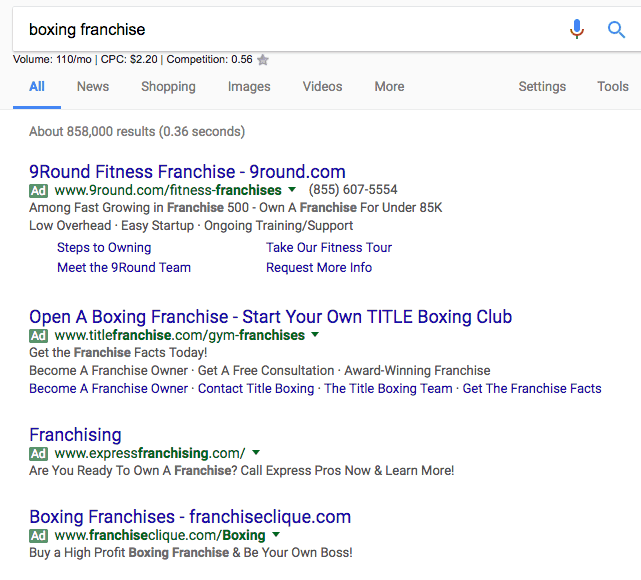 Here's the landing pages:
9Round Franchising Landing Page
FranchiseClique Boxing Franchise Landing Page
Transcript
Automated by Google
[0:00] Welcome 2 episode 8 of the paid insights podcast where we analyze and deconstruct other companies ad campaign so you can learn what to do and what not to do for your.
[0:12] Music.
[0:20] And welcome back to the paid insights podcast today we're actually going to announce our winner of the book giveaway.
[0:34] You ready so a member of X another podcast called the wine guys guys brand new podcast they just launched.
But I wanted one of those guys want a copy so congratulations to him and keep an eye out for future give away as we do here on the podcast.
Another fun little things I got a shock mount and a boom arm for the microphone so for that all.
Big things will ease your record sound a little better and then learning playing around with.
GarageBand a bit so hopefully just keeps getting better but let's get into it today we are going to talk about.
[1:21] What's the keyword boxing franchise that's right so
when someone types.
Franchise they're typically looking for the purchase of franchise because if you're looking to go.
You know to boxing gym you probably wouldn't you wouldn't use that word so just something to to keep mine and we have for ads that appeared at the top in the first.
Well first of all there's a hundred and ten searches per month and average cost-per-click is $2.20.
The first ad is 9 round Fitness in.
Research for boxing franchise first thing I see here is there brand name which.
[2:17] My favorite because
it doesn't say right away that I mean test Fitness franchise but it just doesn't say.
[2:28] Boxing franchise you know up front and center even though it's kind of implied by the 9round brand name and everything even there are URL says Fitness franchises.
Alt this is among fast growing in franchise 500 only franchise for under 85 K 85,000.
So they have some colored extensions is low overhead easy startup ongoing training and support spray standard.
Or franchise and then have some sitelinks that's a step to owning.
Take Hour Fitness tour meet the 9round team and request more info so your phone number is well overall it's not a turtle at I'd like to see the headline be.
A little better really still lined with with the search and you know they can they can sell themselves a little later on in the in the process I believe.
Is living on next we have title franchise.
And they're a little better job with the headline it says open a boxing franchise start your own Title Boxing Club so I think that's a great kind of.
Title and call Action all all-in-one and they're using like they're using extended.
Text Dad's cuz there's two headlines
and then it says in for the URL his title franchise.com / gym franchises.
Does get the franchise fax today it seems a little little week for description what I mean they should be selling why maybe why to get a boxing franchise little bit more.
[4:10] Call action or something there I just kind of vague if you ask me.
MCD call out extensions they become franchise owner get a free consultation award-winning franchise
which.
Not related.
To do a better better job with that was some of those and it's kind of funny because right below it there silent site link extensions and the first ones has become a franchise owner so you basically see.
Those two things kind of stacked on top of each other become a franchise owner and then right below it become a franchise owner but you can't click on that one.
Other site links are contact Title Boxing the Title boxing team and get the franchise facts to that kind of lines with that short description they have but.
Again just very I want what what are facts what is that was that mean.
And how wide is that that help me want to owner franchise.
Next is pretty pretty exciting headline it literally says franchise in one word.
And it's from.
The domain Express franchising.com does are you ready to owner franchise call Express Pros now and learn more.
That's a pretty poor at I'm pretty sure they're like no broker or lead reseller I haven't even looked at these yet so.
[5:44] That's the way not to do things his distance is type 1 Word and keep it keep it as vague as possible but I'm sure then get some.
Some clicks if there are they're targeting right searches next is boxing franchise is by franchising click.com.
Clique
and they actually Target.
Does keyword pretty well it says boxing franchises and there's display URL.
Does boxing in the description says by a high profit boxing franchise and Be Your Own Boss so I'm pretty sure this is another broker lead reseller and they decent job I mean.
Inserting they're probably targeting hundreds of different.
Kind of different Industries so they you know have stuff and every every little little area but seems to be no.
Get straight to the point.
So we are going to jump over to the landing pages for these for ads and see what those look like.
Also want to let you know that you can find show notes and screenshots for this episode at paid insights.com / 8 the number 8.
[7:14] If you listen to previous episodes dropping the.
The episode and the number we're going to stick with a number after the URL to make things much easier for real and going forward so.
Again it's paidinsights.com/8
arrest of the first landing page is 9 round.
And it says 30 minute kickboxing.
And actually a pretty nicely design page first thing you see is among the fastest-growing Fitness franchises that aligns with the ad and their description so that's that's always good to see.
And it's like they fulfil navigation along the top to check out the rest of the site.
I'm not spins to be a negative because you want people to really stay focused on on the page so I would probably recommend that they remove the navigation or at least.
You know they have a sub now as you scroll down
it's basically a friend.
The one page navigation so it anchors down to different sections which is really nice as it keeps going that becomes the new static navigation and it says request information.
Is franchise overview financing franchise news and blogs so.
So cool to see that they have specific news and blog just for their franchise sales side they also have.
[8:52] Apri simple form it says take the next steps now ask for first and last name email phone and zip code.
Which.
It's good it doesn't feel too overwhelming I know that if you're selling something with a pretty high investment you need to get some on the phone and talk to him several times so let me know I know all information is isn't and.
[9:18] Seems like you know they get together they need but not more than they need.
I would like them to better explain what.
Next steps mean it says please complete the form or call.
Antonino the form fields and innocence yes I want more information but I want to know.
What information I'm going to get at least for this very first step is it going to be the guide or an infographic or are you just going to call me I kind of want to know that before I give you all my information.
Put someone looking to buy a franchise you know sometimes they don't have all that resistance so and to something something to test.
And then the door 9round franchise and get some kind of.
Brief description not too much copy which is good to see a little bit about their their goal of owning an email adding people on a business.
About being a proven business model network of dedicated support hundreds of other franchisees.
Text Dex pretty good and then as we continue down there is a video.
From the director of franchise development and as we keep going down cuz what is 9round so it's a little bit about.
The concept but it's it's structured in a way that's more towards someone looking to buy the business so it says 1000 to 1500 square foot Fitness club.
[10:56] Alternative to regular gym no expensive machines to maintain average investment cost and that a 5000 at they mentioned in the ad Falls right in the middle of their average total investment.
Tell tiger to see that they talked about what it is but then they Taylor a little bit more towards
do the audience they're reaching continue it says our proven business model.
And how they're a good mix of right industry the right concept and the right business model.
Talk a little bit about Fitness being a 30 billion dollar industry.
But anyone can operate a club with just two to four employees no kickboxing experience needed so that stuff is is kind of important to highlight so people don't think I'll I'm not I'm not a boxer this isn't for me.
Good good info here and then high-energy fun exciting environment.
Talk a little bit about how it's a place that people want to go and keep coming back to no low-pressure for the members.
Are good stuff to see them highlight and then the next section has one of the fastest-growing Fitness franchise this again aligns with the ad and the headline of the top there's a timeline.
Regular says from 2017 back to 2012 there's kind of Entrepreneur magazine Ring Stop.
[12:35] Inc 5000 ranking.
Time just a bunch of different Awards along this this time line so that's good to see you show some social proof.
And then a little kind of cool 3D model of a typical 1200 foot club shows what it looks like pretty basic shapes are not easy to find a space and get going.
And says we're in your corner every step of the way in house franchise coach choose your location pre-opening training marketing support so they're highlighting some of the stuff they do for you.
[13:18] And then it also says better health for members better brand for you.
Tell talks about little bit about what they offer their technology their training programs their nutrition programs so.
Can I go to see them continue to sell themselves and different aspects of the business both for the consumer and for the B2B side for the person buying the franchise.
[13:50] Can of alternate as you as you go down and then affordable investment let's compare and they compare themselves to Orange Theory and Planet Fitness.
Which are probably come another Fitness franchise is that people looking to buy are considering so they compare the investment cost.
Which 9round is considerably lower because there's just less less equipment less space.
So they give a little bit about what you need to qualify your net worth liquid assets and credit score so that helps too.
Kind of free
qualified people so they don't reach out if they don't meet some of those minimum requirements.
[14:39] And then it's continued there's three
three or more testimonials from other other owners and their.
Convention and you can scroll and actually see Seymour owner testimonials which is this which is awesome.
And then there's some franchise fax so this was not the ad that said learn are franchise sex buddies.
Brexit good it sucks about how they have a low start-up investment overhead is low and you get access to their support team.
You don't have to be a sales person to a couple little things to.
[15:21] Highlight how it's easy to run easy to own and
why you should be apart of there their system.
And then they break down the initial cost so it's a pretty long paid.
Another one info when you're considering spending hundred thousand or so divided by a business so initial cost.
So there's a initial franchise fee some technology equipment and they break it all down and kind of give you a little when high cost.
On what you'll need to have that is really good to see so people know what they're getting into for the even you know get in touch.
[16:07] Continuing there is some financing options there's some other kind of Registries insights that there.
Listed on and then there's some frequently asked questions and they talk about discounts for multiple purchases multiple locations.
[16:28] Sia
kind of reader eating some of the terms and some of the kind of best best practices.
[16:41] And they have a fixed royalty so it's $149 in the United States.
[16:50] I'm sending out the monthly but.
[16:55] Different different sort of way to approach it and then there's franchise news and franchise blog with your both current
just great to see the day.
They highlight email some of their.
[17:10] News here and then even even one of the latest news items is fastest growing franchises which again aligns with the ad.
[17:20] And there's a form at the bottom so I love to see that you get all the way down and.
You want to tell people what to do next so it says take the next steps now I'm kind of somewhere to the form up at the top again same asking for the same five field.
I would like to see.
Did a little more description on what kind of what happens next in what information you're getting but overall I think these guys do an awesome job and.
I am at some clients in the franchise industry that's why I chose.
This keyword in topic so I am going to use this page to recommend some improvements or one of my clients for sure.
[18:07] Let's move on to Title Boxing.
Pretty pretty sparse landing page no navigation you can click the logo to get back to title franchise. Come their main main site.
Their headlines has Title Boxing Club franchise facts
so another.
Other one telling you the facts and then get the facts with our infographic.
Download our franchise in fact learn more so they keep the kind of keep repeating themselves not saying anything different and again like the ad it was vague then kind of vague now.
I do have some bullet points to show a little bit of the info you're going to get
but.
Does three proven Revenue sources major brand Partners like Nike Gatorade best in franchise development leadership team.
National and local media and fun facts so they're actually telling us to download an infographic to learn about this stuff which is which is fine.
These bullet points are small and kind of kind of hard to read.
And this doesn't really tell you says learn some facts but doesn't like tell you what
they're going to show you.
[19:39] And the form ask for similar information is the last one first and last name email phone number.
And then they also asked for city state and Country
which
the information that they need but I don't think.
[19:58] I like I like the other zip code route allows you to attend the city and state automatically without asking for that information so it keeps him out of form fields.
Smaller which tends to increase conversion rates and his kind of negative you're there
looks like 5 different images.
They are broken so they they are not loading at the bottom which just makes it look kind of less trustworthy and.
Like me like they don't
he ran away so.
Yeah they could definitely do a better job here but.
[20:43] Not awful I just the headline being repeated 3 times it says get the franchise fax is probably the biggest negative here.
And then the form saying download the infographic.
But the forms really be self-contained and tell you a little bit about what's going to happen without reading the part on the left.
And the button says Get the facts there's that word again let's move on to express franchise n.com member that's the ad that just said franchise.
[21:22] See this is the same thing says 2017 means business owned one average 5.6 million + annual sales.
Be Your Own Boss for a change become an Express franchise owner watch her video.
Total videos on YouTube videos of expresses the number one Staffing franchise so now we know that this is not relevant to.
Boxing in any way is join Over 35 years of success with Ben and Ward winning Staffing franchise was committed to employing Excellence.
The Staffing employment franchise business
do you do any Pages an awful I mean it seems decently designed.
Tulsa tells you benefits why why them but doesn't like it with the keyboard of the ads so it feels we won't we won't continue.
[22:24] Nexus franchise click.com
Anna.
Dairy a broker or lead reseller like I mentioned so they dropped you into basically a health and fitness franchises.
Category page in it actually goes all the way down to martial arts and boxing franchise is category paid so.
Paid a decent job and I get you the right place.
And actually see 9round is the second second option so what you can do is go down and click.
[23:04] A little checkboxes to choose the franchise is you're interested in or learn more about that specific one and then if you scroll is a form that stays on the right side of the screen.
Which is very overwhelming there it looks like 10 10 plus different fields which.
[23:25] Is it a chance if they need some info to help kind of gets you to the right business so you're likely to meet the requirements and you know able to.
[23:40] In their case I would probably try to do a multi-step form or.
Like I mentioned before if you if you just ask for zip code you don't need to ask for City and the state and Country.
So that's
one suggestion
Elsa Hosk for.
You are not required but Capital so how much money you're looking to spend time frame your occupation in just a small kind of condensed.
Field so they're they're just so little it feels more overwhelming the way it's the way it's displayed to the.
[24:30] Overall I think for what they're trying to do.
You get to the right place and you can get in touch but they could do do much better job with the with the form and.
The overall design seems kind of dated I guess I would say
but um.
I know that franchise Clique is a big big company and adventurous this interested to see how there.
These people see how they're doing.
I think that's all four of the landing pages so we're going to wrap this episode up and I will see you in.
[25:18] Music.
[25:36] One last thing if you are enjoying these podcast episodes I would greatly appreciate it if you would leave a rating and review on iTunes.
And I create a link to easily get over to the iTunes page it's paidinsights.com/itunes.
Pimples that pop over there click.
Five stars one star whatever you want leave a review and will see you soon later.