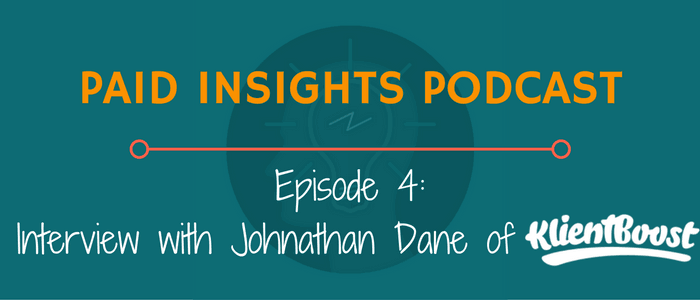 This interview with Johnathan Dane was amazing. We covered a ton of stuff in about 45 minutes and he brought a ton of value. I think I learned a few things listening to it again to take these notes.
Here's a highlight of the things we covered:
How Johnathan Dane got his start in PPC (it starts with craigslist)

Common mistakes with AdWords / Landing Pages

Not focusing on the important metrics: close rate, conversion rate, revenue

Not tracking revenue & sales

Iceberg Effect (and why SKAGs are crucial)

Why you need to balance lead volume vs lead cost for the highest amount of revenue

Should beginners use Single Keyword Ad Groups (SKAGs)?

Why higher consideration searches do better using the homepage as a landing page

Why certifications are crap (see DMI article below)

How to get started with AdWords

Learn by doing if possible, if not, learn by reading

Why you should focus on the macro things first

Why you should use multi-step landing pages

Why you need to match your offer to the traffic temperature

Tips for dealing with slow clients

Why KlientBoost doesn't use bidding platforms

Switzerland having a minimum income for humans (don't ask)

Robots taking over our jobs?

Missing features in AdWords or Facebook Ads?

Target individually (1 person)

Estonia
Notable Quotes:
Be a problem solver first.

What can I do to bring value in a progressive manner?
Connect with Johnathan & KlientBoost:
Links mentioned:
Tools Mentioned: