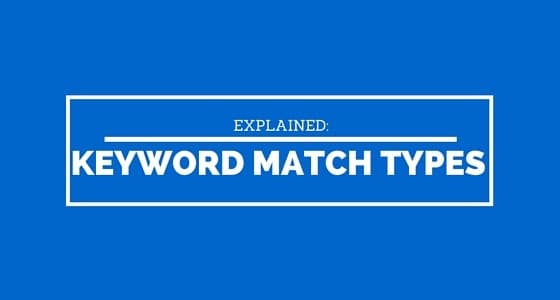 Paid search keyword match types always seem to trip up many new AdWords advertisers – even many experienced advertisers. I've even helped a number of people who didn't realize they exist.
Read on to learn what to watch out for when it comes to AdWords match types and recommendations to help you make the right choice for your campaigns.
Broad Match Keywords
Avoid Broad Match. No need to keep reading.
But seriously if that was all I could tell you, your campaigns would improve by 3x (or more) without touching anything else.
The default setting when you add keywords is Broad. It looks normal to a new advertiser, and doesn't have a plus sign (+), quotes – "" or brackets – [].
Many people aren't aware how broad Broad Match actually is. Take a look below:

Search term is what the user actually typed. Keyword is what I targeted. This is actually a competitor of a competitor that triggered the ad. Could be okay, but not ideal.

Same account, different campaign. This one of worse. 'massage for dogs' shouldn't trigger for 'therapy pet' if you ask me.
There is a place to use it, but for many advertisers, and especially new advertisers, they are better off using a combination of the other match types.
Google's help file has a decent description of the match types: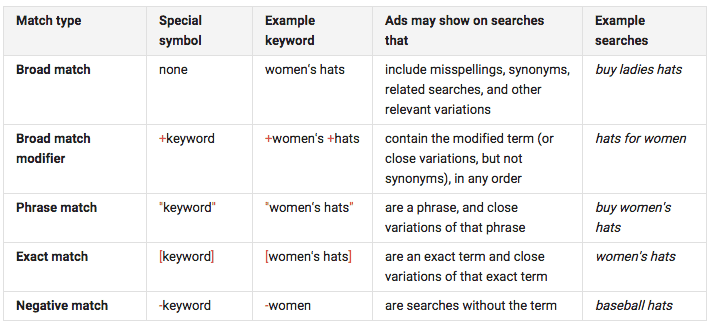 One thing to keep in mind is that all keyword match types (even Exact) can trigger closely related terms, synonyms and plurals.
You'll see an example of close variant matching down the page a little.
Modified Broad Match Keywords
Modified Broad is a relatively new match type that is not obvious it even exists. You can't automatically change to modified broad in the interface.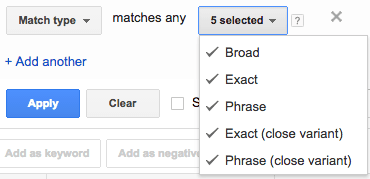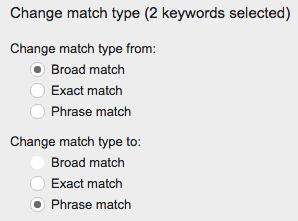 The best part about modified broad is it won't trigger to those extreme cases and word order is not important. For example the keyword +denver +coffeeshop will trigger when someone searches "denver coffeeshop" or "coffeeshop denver" or even "denver colorado coffeeshop" – saving you the time of having to enter additional word order variations you think people might search.
You can modify just one or more words in your keyword phrase with the plus sign. So you could target: car +window +repair and because car is still regular broad matched, it could trigger for 'truck' or 'auto' in many cases but also "repair car window", "rear window repair", "fix my truck window repair shop near me", etc.
You still need to keep an eye on the search terms report to make sure unrelated searches aren't triggering your ads.

Phrase Match Keywords
Phrase match is usually where I start when creating new campaigns. It uses quotes – "" – around your keyword and word order is important. Your phrase must be in the search, but it will allow searches with words before or after your phrase to trigger your ads as well.
Let's say you target "samsung tv" – it would trigger for "Samsung TV UN55JS8500" but not "Samsung UN55JS8500" or "UN55JS8500 Samsung".
This is another match type where it is important to monitor the search term report and exclude words or phrases that you don't want to trigger for. You would be amazed what people search for.
In one account I took over, they were targeting "deck builder" and "deck building". People kept clicking on the ads after searching for "magic deck builder", "mtg deck builder", "pokemon deck builder", etc. No one is advertising for those terms so they would always show up on top – and not everyone reads your ads – especially if the headline matches their search.
That's why it's important to proactively add negatives when you build the account (and do proper keyword research) – but there is always something you don't think of.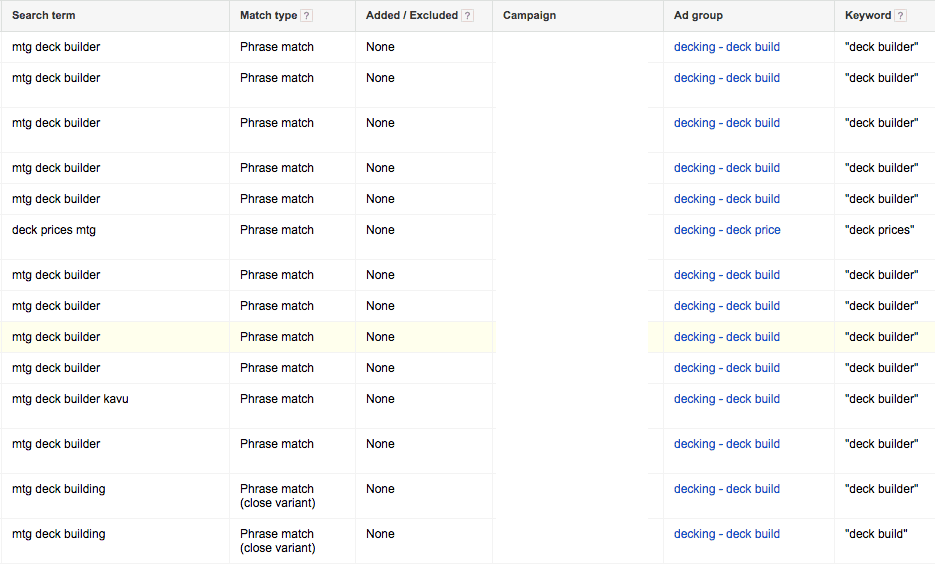 Look how "deck building" matches with "deck builder" as well (the match type that says close variant). That might not be something you want to happen, so keep an eye out for those types of automatic matching as well. It could even do something similar with exact match.
Still with me? Good!
Exact Match Keywords
Exact match is like it sounds. It only includes the word or phrase in [brackets]. Pretty straight forward but it will have the lowest volume. Use it for terms you know people search for.
Using exact match allows you to set a more precise bid on the exact term you want to target. I tend to use it for those high converting terms for that reason.
I also like to use a combination of Exact, Phrase, and Modified Broad for brand terms.
Negatives are not as "broad" as their regular keyword counterparts. They do not trigger to closely related terms, synonyms or plurals.
For example, you would need to add "pic", "pics", "pix", "picture", "pictures", etc. to exclude people searching for pictures – which many times you want to do as they are not usually buyers.
I use negative keyword lists (in the shared library) to easily manage and apply negatives to multiple campaigns:


You can use broad, phrase, or exact negatives. One word broad and phrase are the same thing.
I like to use phrase matched negatives most of the time. It just makes more sense to me.
Negative exact match is where things can get confusing. I've even accidentally added them when I meant to add phrase. Whoops!
Negative Exact will only exclude that exact search. So if you are targeting "tan recliner" and add exact negative –[black] – it would only trigger when someone searched "black" – and nothing else – which isn't possible if you are targeting "tan recliner". Make sense?
The best (only?) use case for negative exact is when you want to target your phrase plus other words, but exclude your exact phrase. There are many cases where this can be helpful.
For example, lets say you sell iPhone accessories (cases, chargers, you name it). You could target "iphone" but add negative exact –[iphone] to only trigger ads when people search for "iphone charger", "iphone case", etc. You would still want to have other ad groups targeting these terms but this will allow you to fill in the gaps of things you may have missed. If you try that, be sure to add negatives for "reviews", "blogs", "drop test", etc.
Were you surprised by anything? Have any questions about keyword match types? Let me know in the comments!