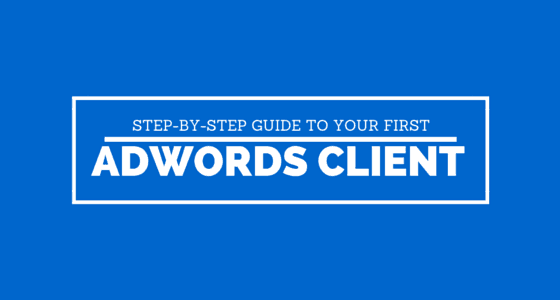 Need to get familiar with AdWords without spending your own money? There is a way – and you can help an organization in the process. Keep reading to learn how to get your first AdWords client.
If you are not familiar with Google Ad Grants, it is a program provided by Google that offers $10,000 per month in free AdWords advertising to 501(c)3 non-profits.
There are some eligibility restrictions you can read about here:
http://www.google.com/grants/eligibility.html
As well as some limitations here:
http://www.google.com/grants/details.html
You might be thinking – "I don't know any non-profits" – but I will show you the exact steps I used to reach out to multiple charities I hadn't even heard of and offered to help, landing several clients and many new contacts in the process.
I recommend learning the basics of AdWords and getting AdWords Certified before you begin.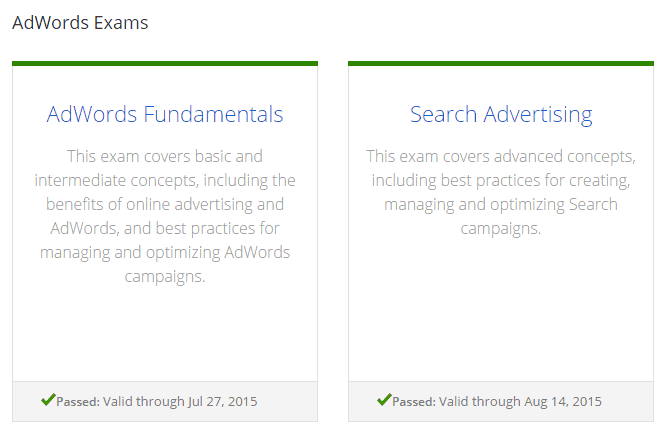 Google says that the charity status must be on the public IRS database (if you are in the US) so we will start there to find a couple non-profits you want to reach out.
If you are in the US, go to Great NonProfits or GuideStar. If you are in another country go to this Google support page to see if the program is active and to get the specific requirements. India is listed but the link doesn't go to a live page. Maybe they are launching next. Google is expanding the program quickly all around the world.
I would start in your own state and choose a category you would be interested in helping.
Let's say you would like to help an animal organization in Colorado. Go to GreatNonProfits, type Colorado and click search. Then click on Animals.


Look at the non-profit's website, make sure they are active, and look like someone you would want to help.
Now we want to make sure they are not already on the program. Go to SEMrush and enter the non-profit's website. You want their ads section to say $0 spent.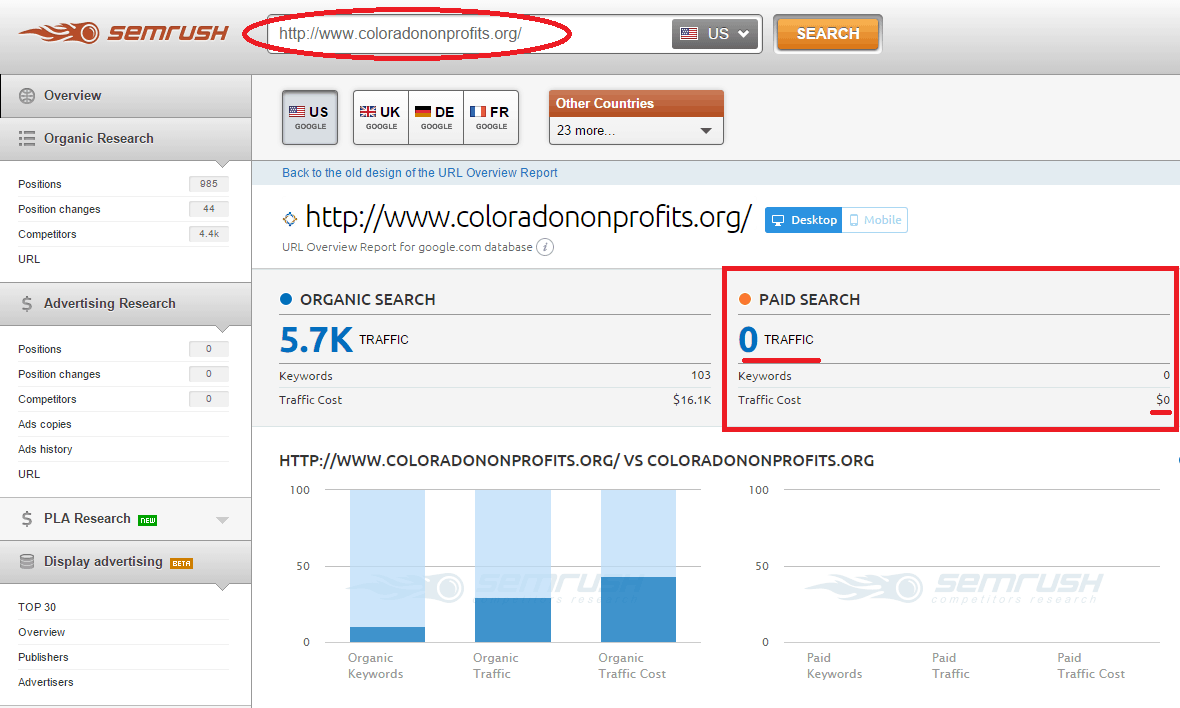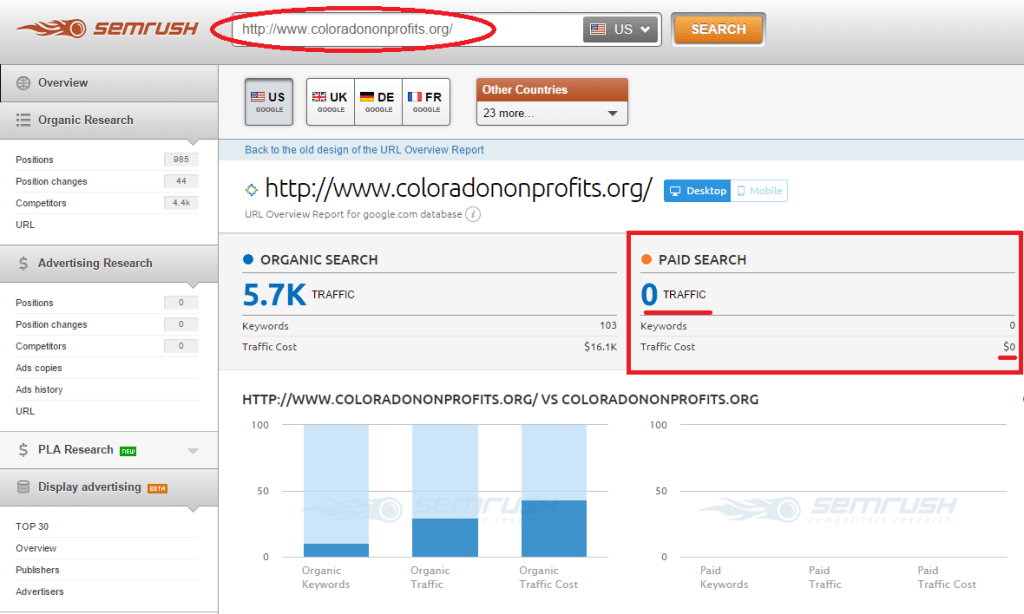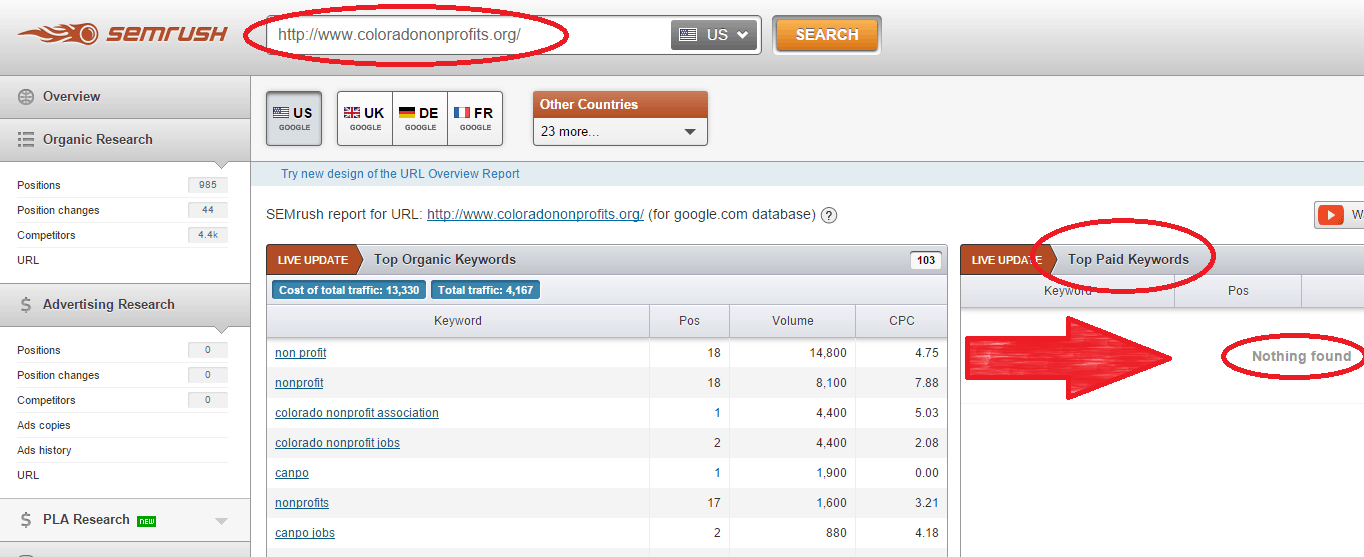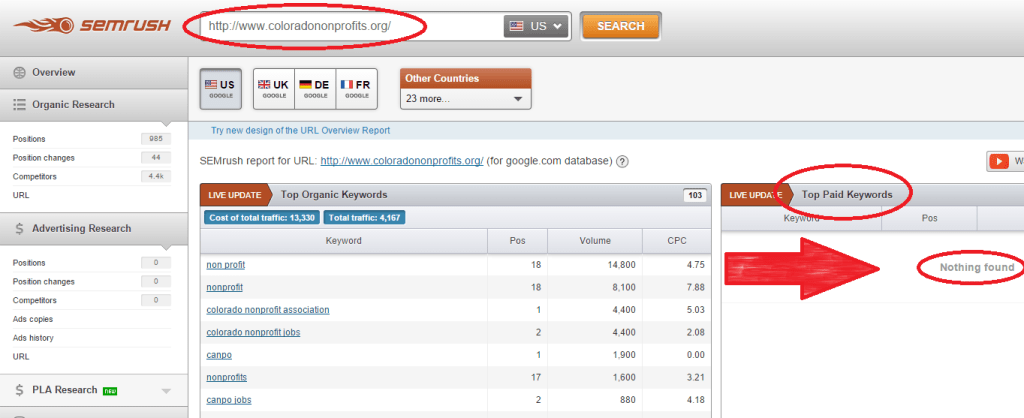 Try it right now:

If they are on the program, you could still reach out them and offer an audit or see if there is anyone managing the account on a full-time basis. They still might need help.
As a bonus, google the non-profit and see if there are recent (within the last year) reviews or news you could use as a review extension for their ads.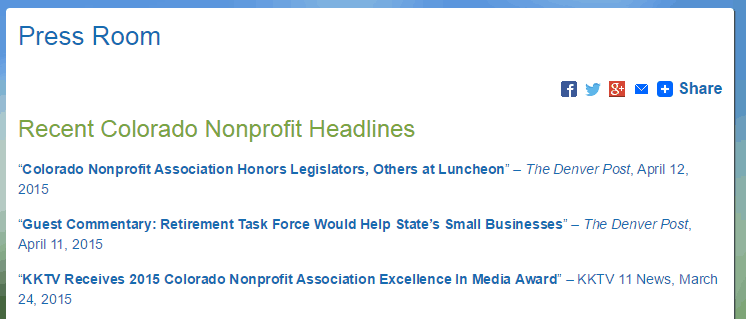 Now find their email on the website. If it's not there, check their social profiles as these can list the email as well. I would use a contact form as your last option.

This is exactly what I wrote:

Please use your own words and try to relate in some way. I emailed about 5 charities to get a response but your mileage may vary.
For the initial email, I didn't want to send too much info so here is my follow-up email if they responded. I set up a time to meet or speak on the phone and provide them with links so they can review the program if they want.

They will need to sign up for Google For Nonprofits themselves if they haven't already.
Then I suggest you create a new gmail account just for the Ad Grants account. Create the AdWords account yourself following the instructions exactly. I would just create a branded campaign with 1 ad group and 1 ad to get it approved. You will be able to expand it later.
Your contact at the non-profit will need the AdWords account Customer ID # in order to apply.
They will also need a short essay about how the Ad Grants program will help them. Because I like to be helpful, and they might not know the details of how paid search works, I provide a template they can fill out. This is my follow-up email after I have met or spoke with them.
Thanks for meeting with me today. I went ahead and set up the AdWords account (login at: adwords.com).

The AdWords Account:
Password:
Customer ID: 123-456-7890 (you will enter this in the application)

You should be able to enroll for AdGrants now.
Sign in Here: http://www.google.com/nonprofits/
Enroll for Ad Grants, including Customer ID above

Here is a brief outline that you may be able to expand upon for the 300-500 word section:
[quick intro about the organization]

We primarily are looking to increase donations to [whatever the nonprofit does].

We also plan to target people looking to volunteer their time in order for us to to expand our reach.

We partner with several complimentary organizations and would also like to grow the awareness of our organization in order to foster additional relationships within our community.

We will measure success by tracking donations received as a result of AdWords both online and over the phone.

We will also track volunteer and contact inquiries received through AdWords.

[expand on some of the benefits of your company and how people have benefited.. or if there is a specific event we can advertise for]

Also, Google requires a basic campaign setup in order for them to approve the application. Here is a quick preview of the 2 ads I created as a branded campaign until we can discuss in more detail:
In my experience getting approved only takes a day or 2, even though Google says it can take up to a couple weeks.
You will need to meet with someone in the organization to determine the goals of the campaign, who has web access (for conversion tracking), and a lot of other stuff. Here is a Google Doc with some questions to get you started.
Now that you have approval you can do keyword and competitive research, expand the account, implement conversion tracking, etc. Take your new role seriously and keep the account mission related.
Good luck.
If you have any questions, let me know in the comments.