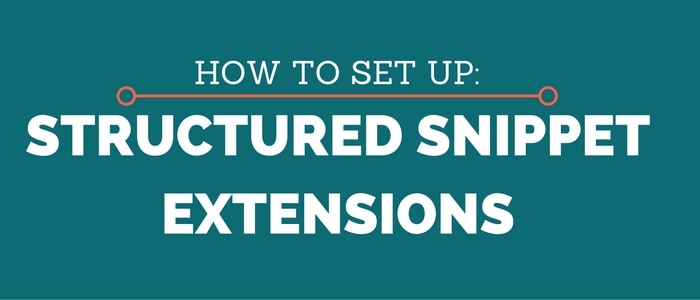 What Are Structured Snippet Extensions?

Structured snippet extensions are one of the newer (although not the newest) ad extensions for AdWords.
They allow you to highlight a list of various headers (basically different categories). Currently, the choices for headers are:
Amenities
Brands
Courses
Degree programs
Destinations
Featured hotels
Insurance coverage
Models
Neighborhoods
Service catalog
Shows
Styles
Types
As you can see there are many different headers that apply to different types of businesses.
How To Set Up Structured Snippets
Setting up structured snippets is similar to setting up another ad extensions:
Select the Ad extensions tab
Choose Structured snippet extensions from the dropdown
Click the red + Extension button (I recommend creating your first one at the account level)
Click + New structured snippet. You'll see this:
Choose your Header, enter values and hit save. Here's one that I created for a local mental health counslor:
Structured Snippet Extension Tips & Tricks
Start by creating your structured snippets at the account level: use something that will apply to all your campaigns
Create campaign and ad group specific snippets as time allows
Create brand-specific structured snippets for your branded campaigns
Google recommends using as many 'values' as you can, but they often get cut off – especially on mobile

Create mobile-specific snippets with shorter values (or use less of them – 3 or 4 max)
Preview your ads to see how they look
Local Business
If you're a local business, I recommend using the 'neighborhoods' or 'service catalog' header so you can show which areas you service or highlight some of your top services.
Do you have any questions on how to set up or best use structured snippets? Let me know in the comments!