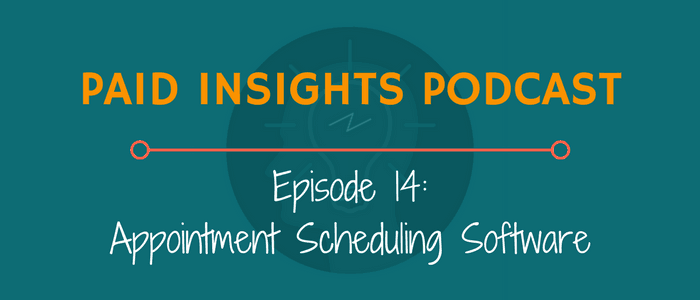 In episode 14, we look at the keyword appointment scheduling software. We got a variety of different types of scheduling software, some for larger companies and some for certain industries.
Site Mentioned
SEMRush (sign up for a free trial)
Search & Top AdWords Ads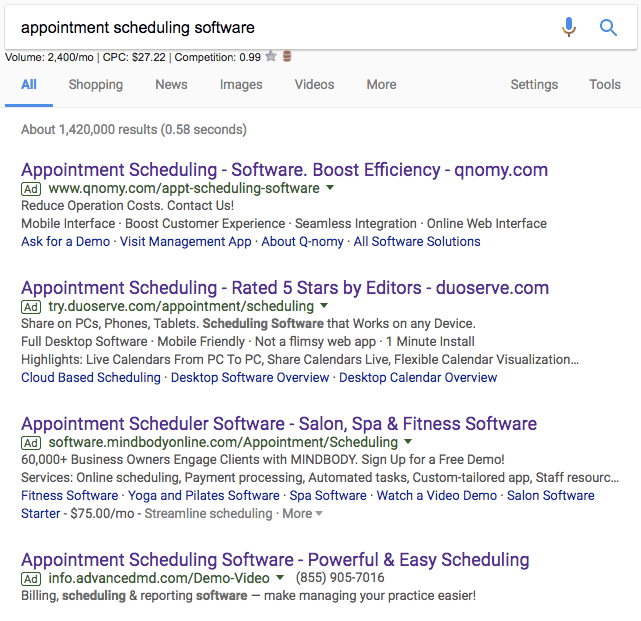 Appointment Scheduling Software Landing Pages
Transcript
Automated By Google
[0:00] Hey in Welcome 2 episode 14 of the Peyton sites podcast where we analyze and deconstruct other companies ad campaign so you can learn what to do and what not.
[0:12] Music.
[0:22] Hey bro we jump in here I just want to highlight a company that I use,
literally every day it's semrush and space clean All-In-One Toolbox to do keyword research you can analyze your,
competitors ads and see what they've been doing this been working well you can do keyword research if you're into SEO you can.
[0:48] Track your positions you can look at your competitors backlinks your backlink stuff like that but specifically for AdWords and paid traffic you can.
We can get two words you can group keywords you can get negatives and you know kind of export all that stuff for your account look at prices and competitors out there's just too much to list so,
could I want you to do is go to paid insights com Rush.
That's Peyton cize.com rush and sign up for free trial give it a try and.
Let me know what you think in welcome back today we are going to be looking at some ads and landing pages for the keyword.
Free appointment scheduling software so let's Jump Right In today and,
looks like this has a volume of 2400 searches a month pretty expensive an average cost-per-click of $27 so it's pretty competitive but you think about it this appointment scheduling,
you know once once you're in one you tend to not switch around as much so it pays to get you in,
you know and get you hooked the first time so I am,
looking for appointment scheduling software for add I see is from que no me I don't know if that's how you say it Konami but it's appointment scheduling software.
[2:23] Has a weird little little Dash in their ad kind of kind of makes it weird Reed weird it says boost efficiency.
So maybe that was just a space limitation or something that they are into but it just kind of reads weird there you are Elsa's,
appointment scheduling software says reduce operation costs contact us
the call-outs a mobile.
Interface Boost customer experience seamless integration online web interface,
Texarkana cool this mobile interface online web interface so like seamless integration makes it sound like you can get access anywhere it's easy to use and then next their site link for site link says,
ask for a demo which is kind of a great.
Secondary called action there then visit management app about the company and then all of their software Solutions movie they offer other other software,
call Solutions as well so.
Overall not bad the description literally says reduce operation costs,
contact us so that's that seems a little weak like I mean it's it's a.
It's speaking to a a pain point I guess that people might be looking for but didn't really use all the space that they they could have been there to really kind of cell.
[3:57] Sell what they have to offer.
And you know more about the the benefits of using using their software versus someone else so I definitely would improve that section but we'll take a look at the landing page a little bit,
later and see see if that.
Make sense text one is appointment scheduling by Duo serve so his rated 5 Stars by editors,
and then the description says share on PCS phones tablets scheduling software that works on any device to looks like that's their kind of.
Hook
four for duo serve his full desktop software mobile friendly.
Not a flimsy web app so they're really kind of saying that there it's easy to use on any.
Any device 1 minute install highlights live calendars from PC to PC.
Cheer calendars live flexible calendar visualization.
So that's under highlights which is like a structured snippet.
[5:10] And then there's some sailing Sissy's cloud-based scheduling desktop software overview desktop calendar overview.
[5:17] Tell her all I like I like that one
you know it's similar similar to.
The one above where they they really high like the fact that it's available on any device and I think that's really important these days people want to be able to.
Schedule an edit and check calendars can I do all that stuff on their phones at their desk you know wherever they are so I like I like that I like that.
Next is mindbodyonline.com appointment scheduling software so it says Salon Spa and fitness software.
Scheduling scheduling software obviously for those types of companies.
But it sounds like you know I just search for appointment scheduling software just generally so well.
[6:09] Initially here it looks like a good ad it's.
It's a little too specific for my search but then again it also would.
Dissuade people from clicking if they're not in those Industries so I could I can see kind of both sides of that that could work and then by highlighting that you're actually telling people not to click if they're not a good fit,
tell.
The description says 60000 + business owners engage clients with mind-body sign up for free demo so great kind of social proof that tons of people are using their software.
Destruction snippet to the services online scheduling Payment Processing,
automated tasks custom-tailored out staff resources I think it says so,
straight to kind of see all that stuff integrated at all all-in-one software is what,
it's where my mind goes with that and then this site links a fitness software yoga and pilates software Spa software highlighting there different kind of business is that they target watch a video demo Salon software,
then there's also some price extensions and on desktop these have just started to show and you can only.
I don't see one.
At first and then you click more to see more but I don't have a screenshot of that so it's a starter is $75 a month.
[7:43] So looks like that's their kind of bottom tier pricing so we'll see maybe if that aligns with their,
they're landing page but overall it's,
great out I like to the social proof part of it the all-in-one stuff so I think think they do a good job there and then last is Advanced md.com,
so this one is another one that seems to be targeted to just a specific industry or Niche and it says appointment scheduling software powerful and easy scheduling there is a phone number which is the only,
only one of these ads that includes a phone number so that's good to see for the people that want to call,
Sunset Billings scheduling and Reporting make managing your practice easier
so.
[8:32] They Don't Really call out the fact.
I'm assuming this is for doctors or health professionals of some kind they don't really call that out in the ad except for in the URL so.
I think they get a lot of clicks or I would assume they get a lot of clicks from people who aren't there.
[8:53] Potential clients not in their target market so,
if I were them I would kind of do what my body does and say appointment scheduling software for doctors you know that right up front so that you dissuade people who aren't,
that from clicking and it'll save you save you bunch of money,
and it's it's more important to save money then try to get a higher click-through rate a lot of time so I think that's,
1 think you'll need to be aware of the let's
jump into hope,
my my Alexa just turned on as freely.
But I turn that off let's let's jump into the the first landing page and we'll take a look at you know me
Elsa one I just have a,
quick reminder that you can get to the show notes of,
fish episode at Peyton side 14 and we'll have a screenshot of the,
the ads and links to all the landing pages and as well as any other links I might mention in the episode so that's paid insights. Com / 14,
right now we're on the Q Q Nami landing page however you say it.
[10:12] And it says customizable appointment scheduling software.
A show someone on a tablet it looks like and so kind of highlights that multi
device
thing that was.
[10:30] Highlighted in a few of the ads and then and also also in there is they say mobile interface and online webinar face so kind of aligns with the image there so we requested demo on the corner,
has to manage appointments and resources in all branches or stores multichannel for any.
Business size or requirement
so.
Sanderson cuz my thinking there goes it's for larger companies with multiple Nina multiple locations scheduling maybe for a restaurant or retail store or something along those lines.
And
but then the bottom line for any business size or requirement almost contradicts.
That first sentence so I would if I if I were them I would probably try to refine their they're messaging to you know highlight who they really want to go after is it those those chains that are.
[11:29] 10 doors or more or is one one location okay like it it doesn't really answer that question right off the bat but let's keep moving down,
and says improve your employment managing processes flexible systems and manage,
to manage and schedule appointments in Medical Center's educational institutions government agencies Banks so right there it sounds like can a bigger bigger
companies and organizations so,
I don't know if if any any business size really fits fits that and who knows name of their pricing,
kind of kind of dissuading some of those smaller companies.
Some highlights hearsay reduce operation costs which was there basically were there one line in the description so.
That's also something that wouldn't probably be as important for for a smaller business you wouldn't.
Quite be thinking about that when you're looking at scheduling software.
At least as what kind of the first thing you're thinking about so death Helen itself to the larger.
Larger organizations as well and then it's a scalable,
from a single point of service to any number of branches and then rapid deployment of cell service scheduling hosted on our private cloud or on your server to go to see some flexibility there.
[13:04] With what how it's how it's setup and hosted and then two of them smart setup kind of some nice large.
Feature is here
as we move down easy maintenance mobile interface Malawi,
scheduling by customers using their mobile phones that's that's kind of cool allow people to find the store with the shortest wait time so I can see that being used for sale,
haircut Place Aurora
tire change,
chain or something like that so that's a good webinar face the next highlight so kind of lines with some of the stuff they mention earlier just contact us,
and then
does name organization email.
Phone which doesn't appear to be required
and then country and then how can we help you so
not sure.
Feels like a lot of information to ask for I'm not sure if they need country right away or maybe they can find that out after I guess it depends on their on their lead volume but,
farmer that might try to try to reduce that a tiny bit but maybe
and maybe they have people.
Station in different different areas so that would be a better better fit it's hard to say just from from the ad at the bottom there's some contact info and about the company it's on there.
[14:39] Other products digital signage.
Business Process Management stuff like that sell kind of kind of shows that there
decent sized company and they do a lot of stuff so.
Not bad the.
The site does let you navigate back to the homepage but there's not not a ton of navigation and.
And if you click like those say advantages it takes you down the page so it's.
[15:11] And actually if I looked at the Euro it says LP.
Toonami scheduling so it's definitely landing page design for for paid ads.
Overall not bad I would I would probably try to try to refine the headline and scheduling
in.
If I think I mentioned this before but it says customized customizable appointment scheduling software as the big headline which is.
Straight but you're probably be a little more,
clear about who who it's for that's all
let's move on to do oserve and it's called schedule flow,
says over 12 million appointments booked and County.
Witches school I like when when they use
either a real number so that use like an API or something dead like have it be alive number or.
Choose kind of like an odd number so if it said 12835621 or something it just feels more real just that.
That clean number almost almost feels.
Not fake but just just doesn't doesn't feel feel loss antic
so ready to top it says try it free button and then that's it.
[16:44] Mia,
is this funny cuz there is there's nothing else there but I think I need to refresh the refresh the page there we go Hill says everything is designed our scheduler is design perfectly,
just kind of a kind of a weird but weird headline.
You're you're trying to sell scheduling software and they talked about you know that it has.
Mobile-friendly full desktop Pino some features for for calendars and.
Works on all devices but then that first thing I talk about is this designed perfectly which doesn't Lee speak to me is the customer it's like hey where are you we are awesome but.
What I want to know what you did for me you know what I mean so,
there's a little video you can watch
maybe you can maybe you can hear that
turn nice little explainer video they have their sum.
[17:50] Kind of social proof they show different different company logos that have used them native Windows application so it looks like it's really really designed to be can integrated into,
PC says Apple and Android app
five stars from editors recent reviews,
it's funny cuz they say it's designed perfectly but it's it's kind of one of the uglier,
systems I've I've seen to be honest so it just doesn't doesn't feel good to me maybe maybe it works great.
I might not be the the target market but I don't think it looks good as some three levels of pricing at the bottom,
based on how many computers and calendars you need so then bunch of frequently asked questions couple more.
Does the try it free button at the bottom tray like to see, drive people to
sign up when they going to reach the bottom of the page and.
It looks like go that URL says / Landing / Landing one so definitely a PPC landing pages well but.
Give me the pages design nice I just think they're screenshots and their app or are ugly and look old and.
So I think the next one mind body and.
[19:26] So this is for those kind of spa and salon businesses and mind-body takes,
the work out of business easy marketing,
and easy management from the leader in business management software to get a 20-minute demo and they ask for your name email phone business name industry,
little screenshot shows kind of what it looks like.
Some someone making a payment right there so,
can of highlights of bacon bacon do all-in-one you know schedule take payments book book people,
to set your business apart there's The Bar Method is kind of shows you can be branded and that's that is a well-known brand in the industry so that's that's kind of a nice nice little touch therapy kind of slip that in but not,
can make it over to Lee you know in your face to show shows,
I'm guessing one of their customers and then it says with the mind-body business app you can figure sales.
[20:37] To take payments and manage your schedule from every location for your clients,
millions of people already on the mind-body app where customers can find book and pay for services,
that's pretty cool kind of all integrated
it's a marketing run promotions encourage people to visit more often so that's actually actually seems pretty cool,
the show the the app again they should mind body.
So you have to looks like you have to get a demo to sign up so they don't show pricing I'm sure it's not not cheap but I'm,
guessing it's it's worth it it's all in one you know you don't you don't need a bunch of tools or kind of have to.
[21:25] Piece things together yourself from
True or straightened looks like.
This some is looks like a landing pages well you know pretty no navigation,
is questions they have a phone number need support click here but otherwise you know they want you to,
to book a demo and then as you scroll down that that get a 20-minute demo
stick to the top of the page as you scroll so you know that that called action kind of stays,
static the whole time one thing that has you so as you scroll it's kind of this like,
white in the forms don't really it just doesn't feel
designed very well but.
[22:13] I just think that piece they could add like a little little border around or something just a just a separate it from the rest of the page
tiny bit but.
Overall like I like the page and you know what they're what they're highlighting.
[22:29] Next is Advanced MD so this is that one where I said they should really highlight the fact that they're for.
Doctors
schlotzsky breeding and see see what they say.
It's definitely landing page you know nothing no navigation a phone number on a live chat.
There's a
a video and they're actually asking for your information to watch the video.
So I guess it's like a little little not a Hands-On demo but a demo of it you just need to enter your information
which not a huge fan of I'd rather see.
I'd rather see the video and then so they use wistia and they there's a few options you can you can use.
When you use whiskey to host and play your videos and looks like they're they're having you,
enter information before you watch it but you can also have people answer enter their information in the middle or the end and I think I would rather see that so give people,
in and hooked and show him how cool it is and then and then ask him to get in touch to you no signup or talk to talk to sales or,
get a Hands-On demo or something something like that so I'd probably try to change the order.
[23:48] What's that process
and then says medical billing software is Ground Zero for optimizing practice Revenue so.
As a business owner I that's that's a great headline you know this is the place to start to,
kind of figure out your Revenue make it better so Billings scheduling and financial reporting software that makes managing a practice easier than ever
love that
features and add-ons why Advanced billing,
and then they go into some.
Some other details so they're called action the whole time is watch the video watch the videos and which pops back up to the top where you have to enter your info to watch the video so.
[24:36] Leah says smart scheduling can maximize our clinical efficiency which makes sense centralized efficient claims Bella management,
and billing
meaningful data to measure your financial performance in a reports they do a great job of kind of,
Niall saying why there
why they're important HIPAA support in a certified HIPAA compliant all that stuff
that needs to happen with medical you know software and communication.
[25:10] So overall I you know the page Pages works there's there's decent information to kind of get me in I would just switch around the.
The order the of the funnel so I can maybe watch half the video and then I put in my information so it kind of gets.
Can I would help them to because you get more qualified people so they clicked.
The only watched half the video and then the in for entered their information because they thought it was a good fit.
I clicked I enter my information watch the video see that it's not not really for me.
But then you call me and then I don't know it's a lot of waste waste of time potentially so
my two cents there.
[25:57] Music.